Latest News
Imagine, Imagine, Imagine
10th February 2020


This week we are scaling back the toys we have on offer and introducing more natural, open ended resoures, we want the children to use their imagin
read more
---
Contact Us
Community Links
Our village
Being in a village location gives us a great opportunity to visit and embrace our local community. During your child's time at Teynham Community Pre -School they will get to know the village well and some friendly faces from around the village such as the priest, curch members, the local PCSO and of course school staff.
We like to use our location to our advantage and enjoy taking learning outside to visit the train station, the farm at ISP, visiting the local shops for snack items and we have even visited the local chinese shop to sample some chinese food during our festivals topic.
Below you will find photos of us exploring our community~:
Our village topic: Term 3 2020
On Friday 17th January the Pre -School children went on a trip to the train station so they could see the trains go past. We talked about safety when outside the setting and how to stay safe near a train line. The children did the setting proud. We are hoping to do our trips to the Co-op , a ride on the bus and a trip to the library all this week now the weather has improved a little.
UPDATE: The weather has been kinder to us this week take alook at the photos below which will tell you all about what we have been up to in our village .....
We wrote letters and addressed them home we then visited the post box in the village to post them so we can see how long it takes to come back to us through the post.
This photo shows two of our children enjoying a bus ride around the village, unfortunatly due to the road works the bus didnt take the usual route so we are going to try again in a few weeks and go on a longer adventure.
We also visited our local co op, to buy the bread we needed for snack. We took our co op card with us as we are their charity of the year so for every one pound spent we get 1p back, dont forget to choose us as your charity.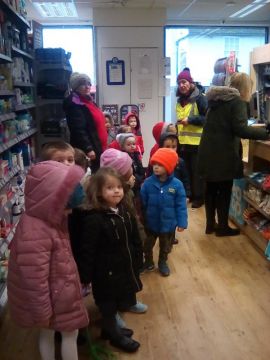 Family food bank donations:
A huge thank you to everyone that donated items to us that we have shared with our local food bank to support families that may need some support over the christmas period. We also donated the books we had left over from the children's Christmas party so we can spread some Christmas cheer to other children.
We will be continuing this on in the new year so any left over christmas treats you would like to dontate please come and place them in the box.
And dont forget if you need some support this christmas then visit our senco page and at the bottom is a list of children centers that you can ring who can support. Never go without there are people to help :)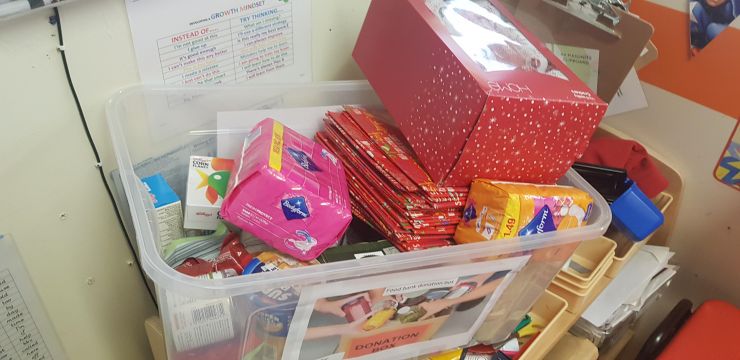 7th December 2019 - Christmas Nativity:
On Saturday 7th December we held our annual nativity in the school, hall we made it a community event by holding it on a Saturday so everyone could come and watch the Pre -School children perform. It was such a great turn out and the children perfromed amazingly with such a huge audience watching them.
We would like to also say a special thank you to Pauline and Ann who work in the school they donated refreshments and gave up there Saturday morning to come and sell these to the parents, we made a fantastic £90.00 so thank you to these wonderful ladies :)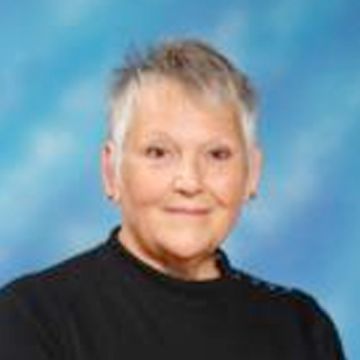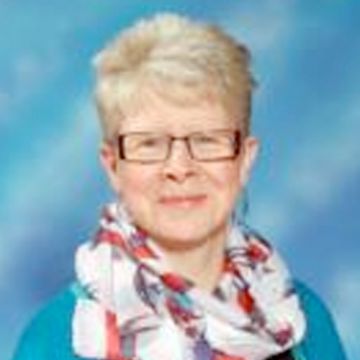 The hall was packed out as you can see from the photo below.... we will update with the total when we draw the raffle on Tuesday 10th December. Thank you to everyone that supported and donated items to the raffle.
Update :
We are now pleased to announce that we have made a grand total of £454.26p which will go towards having groups into the setting next year to support the children's learning and interests.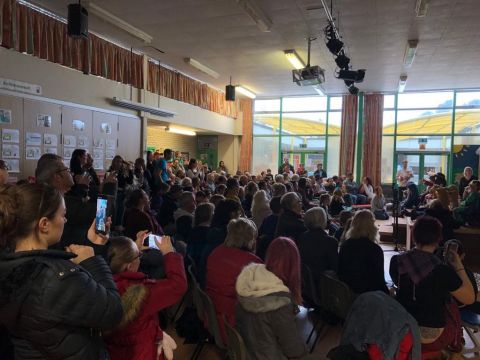 14th November 2019
On the 14th November as part of our construction topic we took a trip into the village to see the building site that is currently building new houses. The builders were so accomodating and were keen to show us some of the machinery that they use on the site. They also come over so we could see what they have to wear while working to protect themselves and others on the site. The children were an assit to us on the trip they behaved beautifully and really showed the local resisdence how we behave when we are out of the setting. There are a few photos below: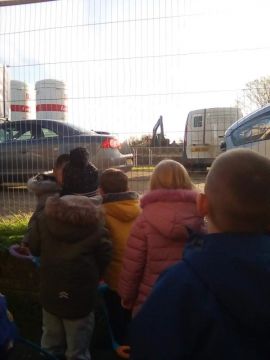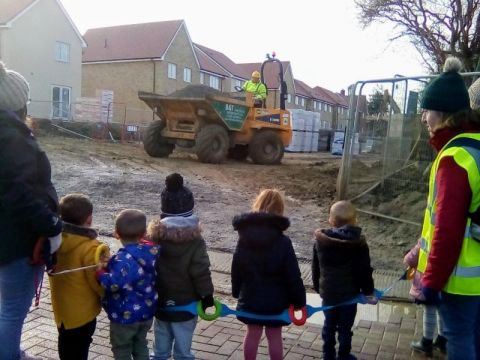 5th November 2019
Update:
We are so proud to announce that Lily made an amazing £106.45 for our Pre -School by baking and selling her cakes both at the Pre -School and for the parents at her dance class. Below is some photos of Lily completing the sale and a beautiful letter that she wrote to us when she presented us with the money. Thank you Lily you really are our star baker.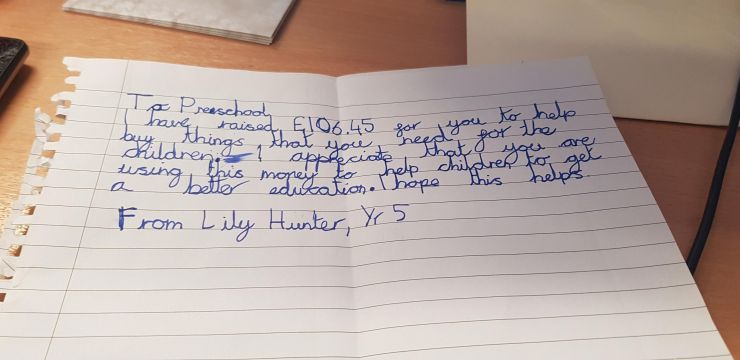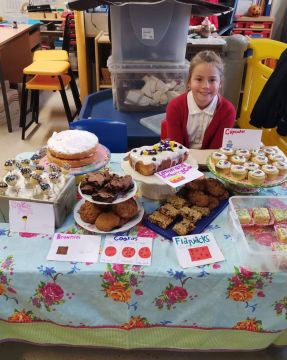 Lily a child from the school approached us to ask if she could do some fundraising for us, we happily accepted and on her own she is arranging a cake sale to take place over the next few weeks to raise money for the Pre -School. Lily has arranged the sale, apprached the setting and now busy preparing what she would like to bake to be able to sell the parents and children at the end of the sessions next week. Well done Lily we are very proud of you!!!! If you would like to come and support her fundraising then Lily will be selling cakes in the Pre -School from 2:50pm on Monday 11th November.
Term 2 - Week 1: 28th October -1st November
This week our topic saw us focus on our planet and