Latest News
End Of Term 1
17/10/2019


Can you believe that we are a day away from the end of term 1, this term
read more
---
Contact Us
Community Links
Our village
Being in a village location gives us a great opportunity to visit and embrace our local community. During your child's time at Teynham Community Pre -School they will get to know the village well and some friendly faces from around the village such as the priest, curch members, the local PCSO and of course school staff.
We like to use our location to our advantage and enjoy taking learning outside to visit the train station, the farm at ISP, visiting the local shops for snack items and we have even visited the local chinese shop to sample some chinese food during our festivals topic.
Below you will find photos of us exploring our community~:
September 2019: Church Flower Festival:
Each September the local village church St Mary's holds a flower festival this years theme was "Hope and Glory" we produced the following display based on new beginnings and hope for our future generations, we then used bright flowers to display with our work.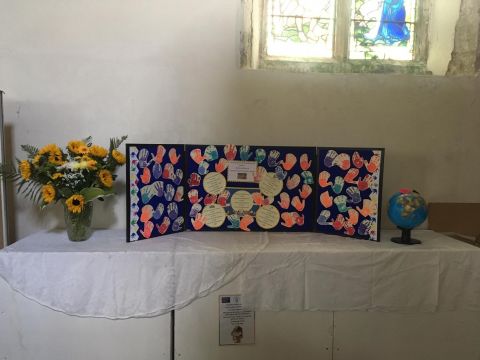 September 26th 2019:
Today we had Kerry Pinnegar who is a COOP member pioneer come to visit the setting she wanted to see and learn about what we do in the local community. We had the pleasure of showing her around the setting and she got the opportunity to see the children in play , we have applied for a grant from the COOP to go towards the setting being able to have more groups into the setting to support the learning and development of our children. I will keep you all updated on the grant process and how we get on.