Latest News
Term 1
29/09/2021


What a great start to term we have had, we have lots of new faces joining us and our older children have settled back in perfectly showing the new
read more
---
Contact Us
Visitors To The Setting
Term 4: 2021 - 2022 - farm visit
It has been a tough few years for everyone and that has meant we have had to limit the number of visitors that we have in the setting - however during term 4 we are planning a farm visit so children can experience handling and learning about a variety of animals - we would love to open this up to all children - so watch this space for a date coming soon.
Term 1: 2019/2020: Wednesday 18th September 2019
Today we were very lucky to have Zoo lab out to come and show us some animals that we maybe havent had the hands on experience of seeing before in real life. We adapted the story of the Gruffalo and took the children on an adventure with a rat,snail, snake, frog, hissing cockroach, and millipead. Each child got the oppotunity to hold or storke the animals giving a great hands on experience to our topic of animals this term. Below are some photos of the session, dont forget to look on your child's online journal for more photos. We hope to have them back later on in the year and invite parents and siblings along to join in the fun :) so keep a look out for our poster.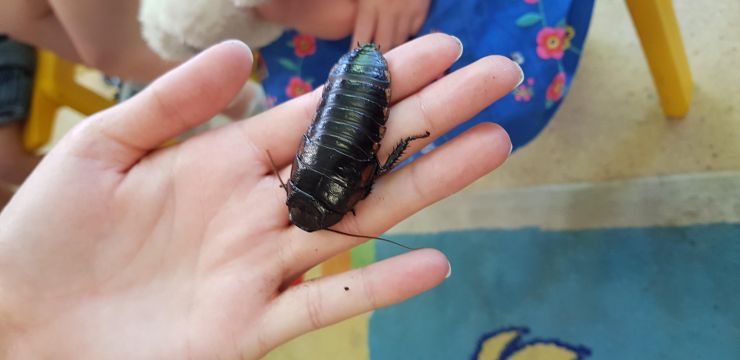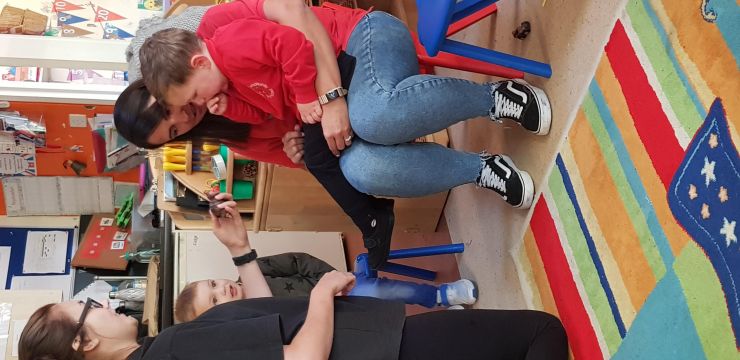 Term 5 - 2018/2019
On Thursday 16th May 2019, we were lucky to have our children's center link Katie come back to do some messy play with us, we were lucky with the weather and it meant that we could do this outside. The children really enjoyed exploring the paint, sensory materials and simple shredded paper while outside. Katie also brought us a story sack to borrow of the there was an old lady... we will be enjoying this in circle times this month. Look below for some photos of the fun we had ......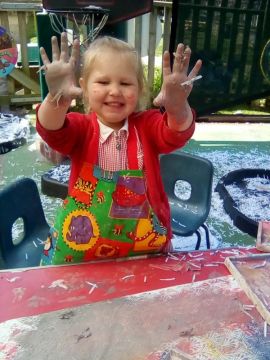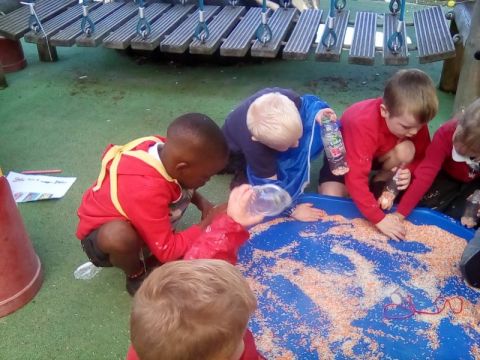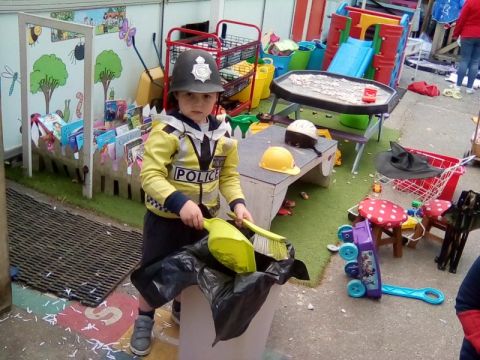 Term 4 2018/2019:
The children have enjoyed Lingo tots so much that we have decided to carry it over to term 4, Kim will continue to come to the setting for one hour a week to teach Frech vocabulary and songs. She interacts in such a lovely way and all the children are really enjoying these sessions.
On Wednesday 13th March we welcomed Ashley from the safeguarding team to come to our staff meeting to teach us all about online safety and how to keep our children and staff safe. The training gave us lots of useful advice and things to think about. I have updated the online safety page with some new videos that we found useful during the training session.

On Tuesday 19th March - Katie our children's center link came to the setting to do some messy play with us. It was lovely weather so we went outside and explored wetabix in water, mud, cornflour and rice and lentils. It was great fun having Katie come in to share these experiences with us. Please see some photos below :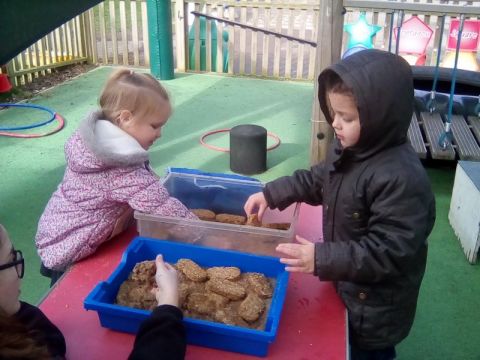 Term 3 2018/2019:
This term we have welcomed Kim to our setting from Lingo Tots she has been coming in for an hour a week to teach the children French. The children have loved learning words and hearing stories in French this has then extended to play after she has left. We have had lovely feedback from parents who have said that the children are going home speaking some of the French words that they have learnt. The sessions are hands on and involve lots of singing which the children enjoy.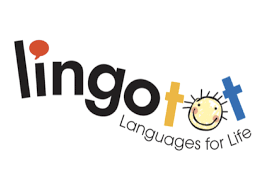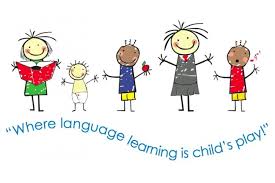 Please follow the link which will take you to their website, at the bottom of the page there are some handout and sheets that you can print to extend learning at home.
5.11.2018 - Fire fighter visit:
Today we was very lucky to have a visit from the local fire fighters in Teynham, they brought the fire truck along and talked us through all the parts on the truck. We even got to play with the hose and make the playground even wetter!!!
They talked about what they do to keep us safe, and gave us some free resources to carry on our learning in the setting.
We all enjoyed sitting in the cab. We then presented them with a card and present to say thank you for keeping us safe, it was lovely of them to give up their time to come and visit us during our emergency services week.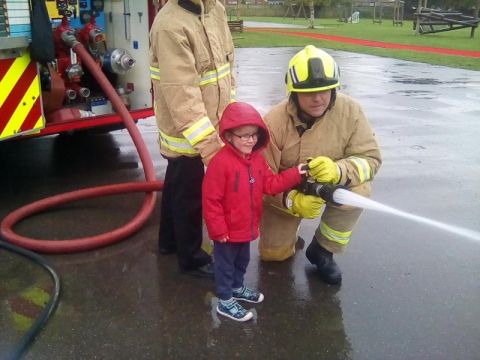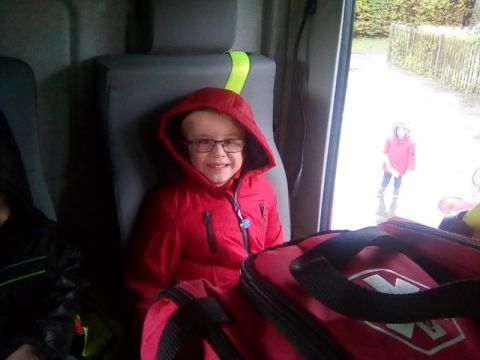 2.10.2018 - Police Visit
Today we had a visit from 2 Kent police officers who came to share what they do with the Pre -School. They talked about their job role and the children then got the opportunity have a look around the car and pretend to drive. The children really enjoyed this experience as well as learning that we can approach them at any time. To often children are taught that police officers take away naughty people but we need to remember that they are there to approach in times of need or just to say hello to.
We also spoke to the children about calling 999 in an emergency, after the visit we had lots of great role play from children wanting to act out what they had learnt from the visit.
Thank you to Kent Police for taking time out to come and educate the children on such an important topic. We have an emergency services week coming up in term 2 in which we hope the police, ambulance and fire crew will visit the children so we can say thanks for all they do.
Below are some photos of the children enjoying the visit this morning: