Latest News
Happy New Year
11th January 2021


Welcome back to term 3 and a happy new year to all of our parents, staff
read more
---
Contact Us
Science Week
13th May - 17th May 2019
We are really excited to be exploring science week, science link's together with so many areas of the EYFS from the children using prediction skills to guess what they think is going to happen to exploring magnets and learning what it means to be magnetic.
Below you will find a list of the experiences that we have planned for science week.... If you would like anymore information on the experiements so you can do them at home then please ask and we will be happy to share and support.
Keep checking back in during the course of the week as we will be adding photos of exactly what we have been up to :)
EDIT: The children have loved exploring science week here are some comments from their best bits:
" We were mixing potions it was great fun"
"We touched ice and it felt really cold"
"We experimented with balloon, the air made it fill up inside"
"It was fun experimenting with the cornflakes and potion mixtures"
"We know that ice is made from water and when it gets hot it melts."
Look out for our next focused week after the half term holidays.
| | | |
| --- | --- | --- |
| | AM | PM |
| Monday | Oil and water | Potions |
| Tuesday | Static butterfly | Washing up liquid and sand |
| Wendesday | Colour mixing ice cubes | Closed |
| Thursday | Can the wind move it? | Magic milk |
| Friday | Magnets | PE |
Magic milk: The children had lots of fun exploring magic milk in the setting today, we poured full fat milk into a tray and added some splashes of food colouring, we then got some cotton buds with a small piece of washing up liquid on the end and touched the milk....what happened next was magic.....take a look at the photos to explore what we found: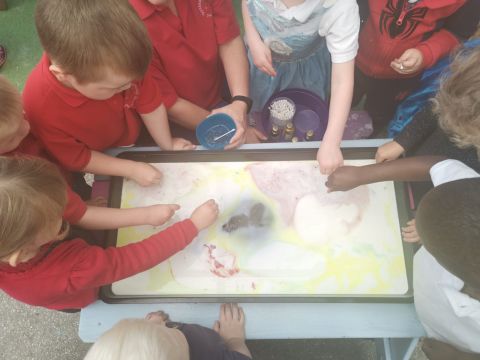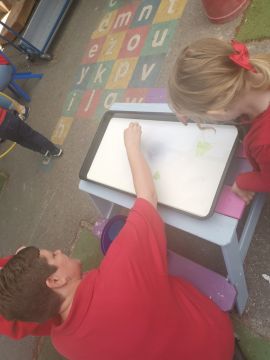 Colour mixing ice cubes: This morning we investigated what happens when coloured ice cubes melt... we added food colouring to water then froze them overnight, we then placed them into jars to see what would happen to the colours as they melted. We sat with them in the sun so we could watch them melt and tried to gues the colours that it was going to make ....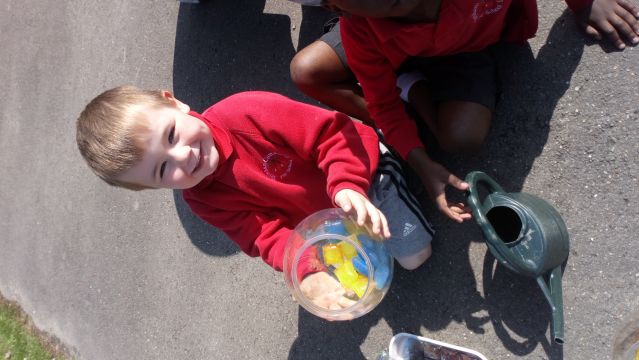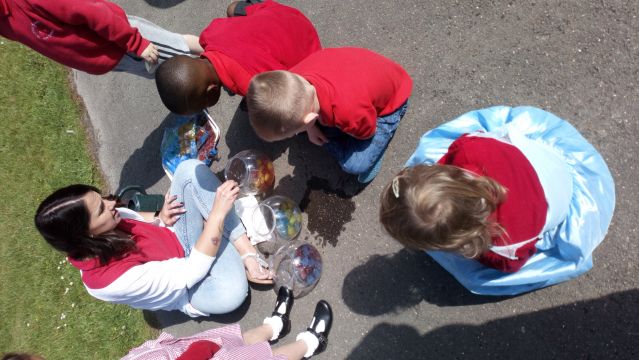 Washing up liquid and sand : This afternoon the children got to explore what happens when we put washing up liquid in the sand. We had some lovely describing words and the children loved making marks in the sand and washing up liquid solution. It makes the sand go lovely and soft. Why not try it at home for an alternative messy play experience.

Static Butterfly: Today we experimented with static electricity, we created butterflies from tissue paper and then used, the static from our hair and balloons to see if we could get the wings to move just by hoovering the balloon over the top, the children were amazed at the "magic".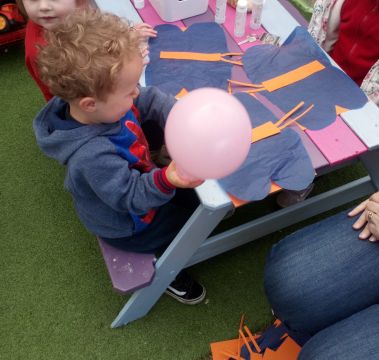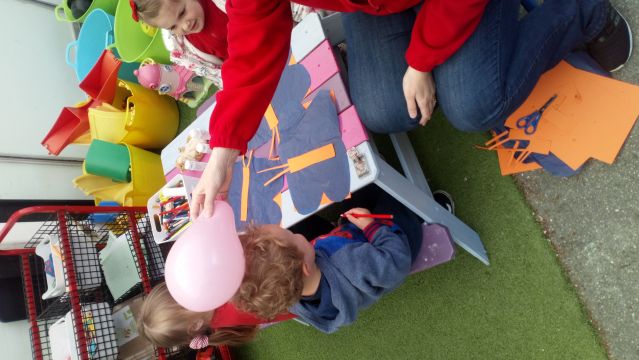 Potion making - The children were given the freedom to make potions using a variety of resources for example cooking oil, cornflakes and flour to name a few. They could then use the materials to explore and experiment with what happens when you mix things together. This experiment is also great for fine motor control and learning to hold and use different equipment. The children had great fun and this is easy to do at home ....we just advise that maybe you do it outside !!!!